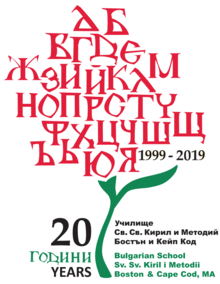 Gala dinner for celebrating the 20th Anniversary of the Bulgarian School "Sts Kiril and Metodii" in Boston and Cape Cod. Please join us at this wonderful event. Program:
* 6:00 pm – 7:00 pm: Cocktail
* 7:00 pm – 7:30 pm: Presenting the school, its people and accomplishments since 1999
* 7:30 pm – 9:00 pm: Dinner and entertainment
* 9:00 pm – 11:00 pm: DancingPerformers:
* Anna Veleva – Soprano
* Elena Mancheva – Voice, Vesselin Nedeltchev – Percussions, Petar Dimitrov – Tambura
Dress code: Semi Formal
Ticket includes a 3 course dinner and a glass of wine:
– Salad course
– Fish, chicken, or vegetarian entree
– Dessert
Tickets online here. Cash bar will be available throughout the evening.
The minimum age for the gala is 14.
For families with children, babysitting services and dinner will be provided at the event for $15 per child. Babysitting will be in a different room in close proximity to the main dinner hall. Children must be ages 3 or above. A separate ticket should be purchased for each child.
Parking at hotel: self-parking for $15 and valet parking for $22. Free on-street parking available in the hotel's vicinity.